We believe food is just as important as music, so you can expect treats, beats and plenty to eat. All with plenty of Somerset style and sizzle.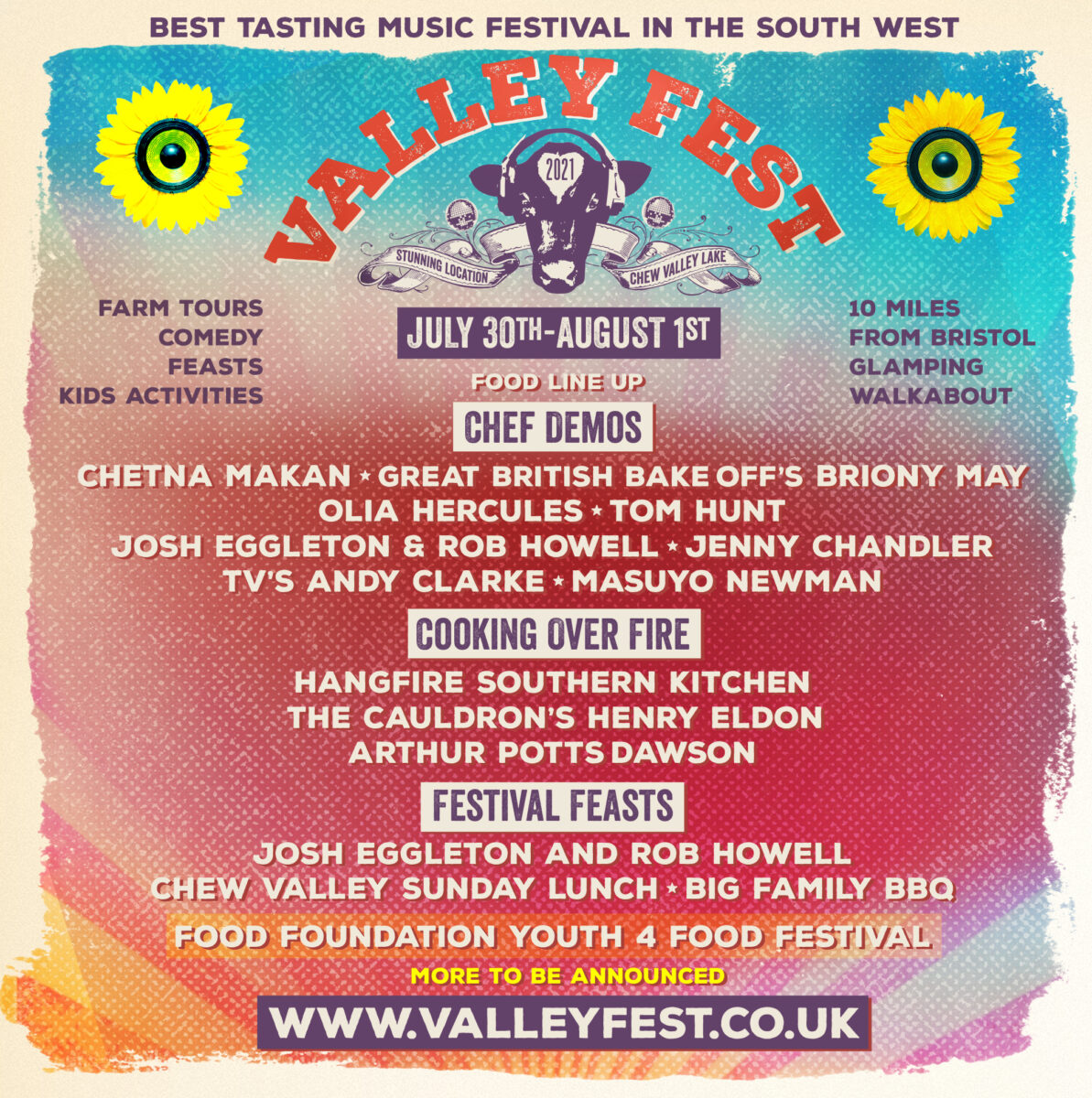 Chef demonstrations
These will take place in our stunning new theatre. Over the weekend you can see: Great British Bake Off stars Chetna Makan and Briony May Williams; Rob Howell from Root Bristol; chef and author, Olia Hercules named Observer Food Monthly's Rising Star of 2015.
Additionally, Tom Hunt author of Eating for Pleasure, People & Planet, is on the bill along with TV's Andy Clarke who will be highlighting some stunning ethical drinks producers. Not forgetting 'Queen of the Bean' food writer and chef, Jenny Chandler, who will be showing how kids can make easy dishes at home.
Live Fire Stage
New for this year: a live-fire stage! Showcasing the best ingredients from Wales and the South West, with plenty of laughs and delicious tasters to boot. The line up includes Sam Evans and Shauna Guinn from Hang Fire Southern Kitchen and Bristol chef Henry Eldon of The Cauldron Restaurant.
Plus eco-chef and UN World Food Programme Ambassador, Arthur Potts Dawson teaches us how to make the most of our summer vegetables. As we all look to eat less and better meat, Arthur makes veg the superstar of his delicious dishes. Choosing one seasonal vegetable, he will take us through three different dishes, utilising every part; root to fruit.
Feasts
The region's culinary heroes and heroines will be cooking up a storm day and night in our spectacular dining marquee. Owner of the Michelin-starred Pony and Trap, Josh Eggleton, together with Rob Howell, Head Chef of Root, aBib Gourmand award winner, will be making dishes from Rob's new cookbook. While Toby Gritten of The Pumphouse Bristol, offers a very special Sunday lunch feast, with every ingredient on the plate sourced from within the Chew Valley. You'll get the chance to meet the producers and hear more about the food you're eating.
Tickets to the feasts are on sale now. You can book a table for 4 people or 6 people. So if you're the one booking, make sure you know of any dietary requirements your party may have. Friday night and Saturday lunch feasts still to be announced.
Big Family Sunday BBQ
Back by popular demand! On Sunday, chefs of Bristol and the Chew Valley, will be whipping up a big Sunday lunch BBQ. Cooked over fire-bowls and combine-harvester bbqs(!) we'll be supplying some of the highest quality meat in the South West.
All the meat is sourced from local high welfare farms in the Chew Valley including Luke's own beef, pigs plus lamb from across the lake at Fernhill Farm. You don't get much more local than this.
Expect sides, slaws and meats of all variety. Plus, some epic vegetable roastery to accommodate all of our guests. Grab your ticket, follow your nose, come grab a box, and enjoy the view on a sunny Sunday afternoon. What's not to love?
Food Foundation, Youth 4 Food Festival
Yeo Valley Organic, our principal festival partner, has always championed natural, healthy food for all. They've recently been invited to be a member of the End Child Food Poverty taskforce. And, as part of this association, have teamed up with The Food Foundation an organisation set up to address the growing challenges facing the UK's food system.
They're providing an opportunity for 100 young people to develop their understanding of food systems, their advocacy and their campaigning skills at this year's festival.  The two-day event is called the Youth 4 Food Festival. You can see what's planned for Saturday and Sunday. It will include lively debates, inspiring stories, and exciting innovations, as well as a Saturday night Disco Soup party!
Sessions will see their peers and partners from different countries joining the discussion via live video links. On Sunday, they will launch the Actions 4 Change, which has been developed with other young people across the world. It will be launched at the UN Food Systems Summit, which is due to take place in New York in September.
Luke Hasell, Valley Fest Founder says:
"This is the tastiest food line up we've ever had. We're showcasing food that's been produced through regenerative farming methods. This puts soil health first so that not only do we produce more nutritious and delicious food, we're locking in carbon, helping to tackle climate change.
When people understand this, they can decide whether they want to be part of the solution or part of the problem, three times a day! We want people to understand the connection between their food choices and the land."
It's been a challenging year for our farmers and food producers, who've worked around the clock to keep the country fed in the pandemic. In honour of their hard work and dedication, we want to make sure that this year's festival celebrates the best local produce, the people who take the time to make it, and the chefs that put it on our plates.
Check out the food pages for more information.