Dust off your dancing shoes and air out your tents. Valley Fest is ON!
Following the Government's announcement, we are making plans to be back with a bang this summer. Our dates are 30th July – 1st August and restrictions are expected to be fully lifted as part of step 4 on the 21st June. This means that, as long as everything goes really well with the previous steps, we'll be able to go ahead as normal. Whoop whoop!
Of course, we're going to be following the UK roadmap very closely and will keep you updated as things develop. We're heading towards the disco ball at the end of the tunnel and we can't wait to see you there!
Tickets are flying out so get them whilst you can. 
Supporting Teenage Cancer Trust
We are delighted to be supporting Teenage Cancer Trust once again this year. Much of the drive to run the festival comes from the fund-raising opportunity it creates. Luke is Valley Fest's founder, and his mother, Sandra Hasell very sadly died of ovarian cancer. In 2019, we raised £10,145 for Teenage Cancer Trust, thank you again to all who donated to this important cause.
And of course since Covid, they've had a really tough time of it – to the tune of a £6m shortfall. This represents a third of their income. So watch this space, we're going to do what we can to help! We don't want teenagers to have to face cancer alone.
Let's get ready to… Zumba
Many of you will recognise Lynne and her ladies who open the main stage each Saturday and Sunday to ensure that we're all nicely limbered up for the day. She's offering us all a FREE online class on March 12th at 7pm. The tracklist will be artists you'll hear at this year's event. So, if you feel moved to, get your festival vibe on: glitter, disco lights and of course lycra are all to be applauded! Here's where you can Join the Zoom event Meeting ID: 980 4560 9358
Songs to warm your soul
It's been chilly. So to help us get to spring, we asked for your soul-reviving songs. Click on the picture below to be taken to the tunes on our Spotify playlist. You'll also find "Somebody Loves You" by The Snuts. This was recently chosen as Song of the Week by Radio 1's Scott Mills. We can't wait to have them at Valley Fest.
Why farm organically?
Valley Fest is the number one organic festival in the UK. During Valley Fest on YOUR land (our virtual event in the summer) Tim Mead of Yeo Valley and Luke Hasell had chat over a pint about why they farm organically. You can listen to their brief chat here: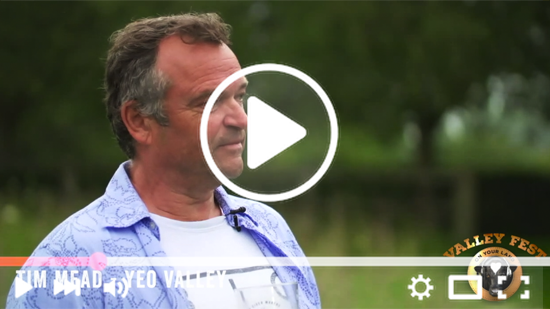 That's all for us for now. And remember, don't hang about if you want tickets – they're moving fast!