Time to lick your lips and dip your hips!
Our food line up, curated by Josh and Holly Eggleton, is here. From feasts, cooking demonstrations and Sunday sampling sessions, it has everything a South West food lover could want.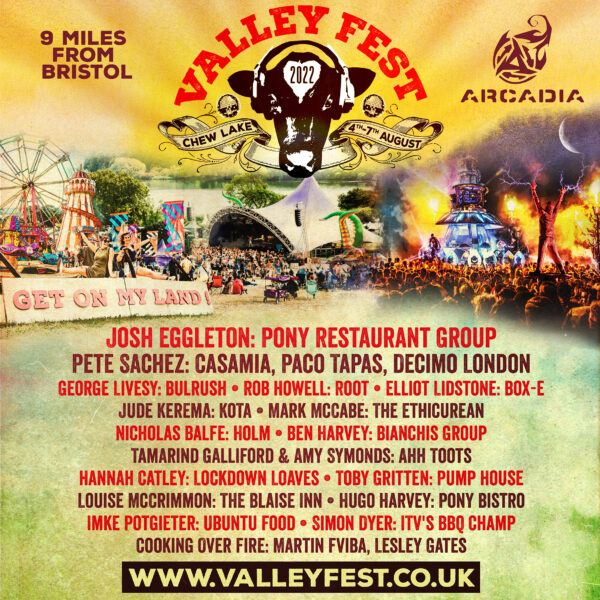 Feast Bookings are open!
Friday night sees a five-course feast headed up by Rob Howell of Root – a Bib Gourmand winner. Expect plant-based small plates with meat on the side.
Saturday will also have a five-course feast headed up by Josh Eggleton with guest chef Jude Kerema of Kota. Prepare for sexy seafood galore.
And Sunday's menu will be a three-course regeneratively-raised roast prepared by Josh Eggleton, Toby Gritten of the Pump House and Hannah Catley of Lockdown Loaves. All championing the finest produce the South West has to offer.
Please note you'll need to have a Weekend ticket or a Sunday ticket to attend the feasts.
Sizzling Hot Sessions
Cooking over Fire

If you're passionate about BBQ smoked food, then you won't want to miss the Cooking over Fire demonstrations.

Cooking demonstrations

There is much to learn from some of Bristol's finest chefs. Themes include home-cooking, low-waste, local and well-sourced produce. Make sure you're in the front row to witness their knife-sharp attention to detail.

NEW for 2022: Sunday Sessions

This little side project is the brainchild of a whole host of Bristol's top chefs and front of house. It's centred around the coming together of friends and family, while cooking outstanding produce over fire. And for 2022, it's coming to Valley Fest, making Sunday extra special!