Festival ticket warning
We only have a limited number of early bird tickets left. These are priced at £135. When they're gone, tickets will be £155 so book now for the best price. If you're feeling a bit squeezed from all the summer fun, then check out the payment plan option which spreads out the cost of the tickets.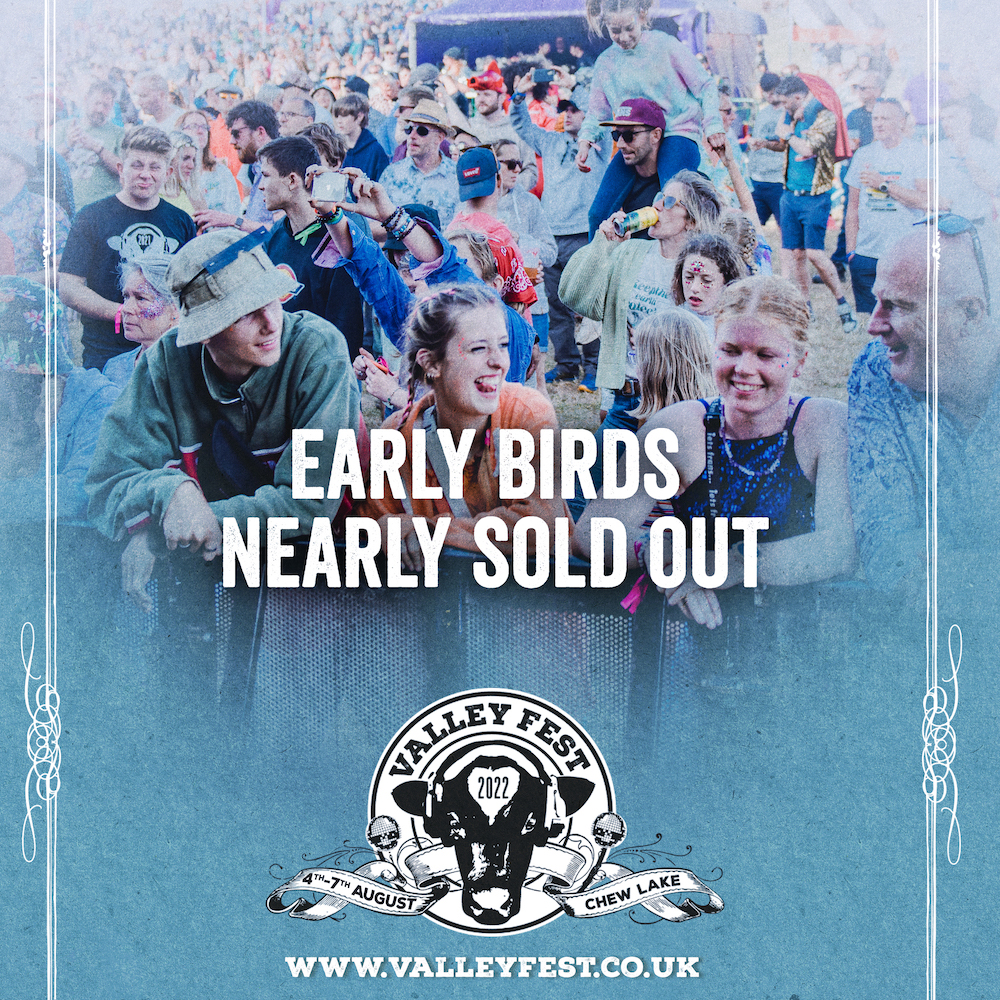 Valley Fest – Bristol Food and Music festivals reviews
You can read some of the lovely feedback we got on Facebook page but we've selected a few of our favourites below:
"This was the first family experience of a festival with overnight camping, I can't say I wasn't a bit nervous with a 2 and 6 year old. We had an amazing time and really enjoyed it all.
The things I was concerned about before we went and the reality….

1. Toilets, I thought queues, dirty, no toilet paper and smelly. However, absolutely NO queues (loads of toilets) and they were reasonably clean (after a quick wipe), plenty of toilet paper always being checked and replaced and only a bit smelly by the end if the wind was blowing the wrong way.
2. Carrying tent and equipment to the site. Ok this was a bit annoying but it we camped in the family area and it wasn't that far to walk. It seemed a lot further with a damp 5m bell tent on the way back to the car whist tired. That wouldn't put me off going again.
3. No decent room for tent. We got there Friday around 2pm and there was loads of room on the site so no problem. On a bit of a hill so dry and good drainage, we did 'slide' down a bit when in bed but managed to stay in the tent! If we had arrived late Friday or Saturday we would have had more of a challenge to find suitable space!

4. Mud mud everywhere. However, even with the wet spells of weather the site is well drained and on decent inclines that meant it never really got that muddy. Of course, if the weather was a lot wetter, it may have done but it was surprisingly dry and pleasant.

5. Cost of food/drinks too high. However, a pint was a decent £5.50 a pint and most meals were around £8. The beer/cider was decent and IPA costs more in most pubs around here so not too bad at all.

6. Queues for everything. However, it was fine, queued for food and drink sometimes for 5-10 mins but not too bad at all. Plenty of space to breath and the kids to play and run around.

Overall it was amazing, the kids loved it and there was loads to do. Music, food, fairground area, story telling, nature walks, crafts, plays etc. Great location with lovely views over the lake. Everyone, staff and public were well behaved and very polite. Felt really safe for everyone and could relax and enjoy spending time with the family.
Thank you Valley Fest, you have a great festival that is set up just right, with just the right amount of people so it is enjoyable and relaxing. Well done!!"
Simon Hannah

"This was our first time at the festival and my 5 year old son's first proper experience of a large event of this type. He absolutely loved it thank god and so did we! Great festival, fantastic setting, amazing experience. That's it, converted for life plus next years falls on my son's 7th birthday – what a celebration he will have. Thank you Valley Fest you absolute beauts. 5 stars"
Caz Howes

"Valley fab fest! Our first visit, we only made the weekend but had full on fabness from the minute we arrived. My 12 year old daughter wants to become a vegetarian, slow carbon emissions, improve biodiversity, educate girls and feed all the children everywhere! The talks were amazing, as were the Hippy Chips we fed on! Thank you, dates for 2022 set in stone"
Sarah Junor

"Small but big hearted, without selling out.' Micke Wilde