If you buy your family a Valley Fest ticket between 17th November and 19th December, we'll add in some extra goodies for FREE!
Each of you will get an iconic Valley Fest 2022 T-shirt and a complimentary meal at one of the food stalls.
Sound good?
Here's what you need to do:
1. Buy your Valley Fest tickets (for you to be eligible for the xmas family offer you need to buy a minimum of 2 adults AND a minimum of 2 tickets that are either kids or teens) before 19th December
2. Once purchased – email us at info@valleyfest.co.uk with your ticket receipt and tell us your T-shirt sizes
3. We'll email you the gift tag (below) so that you have something to give your family on the Big Day
4. When you're at the festival, collect your goody bag (which contains your T-shirts and meal vouchers)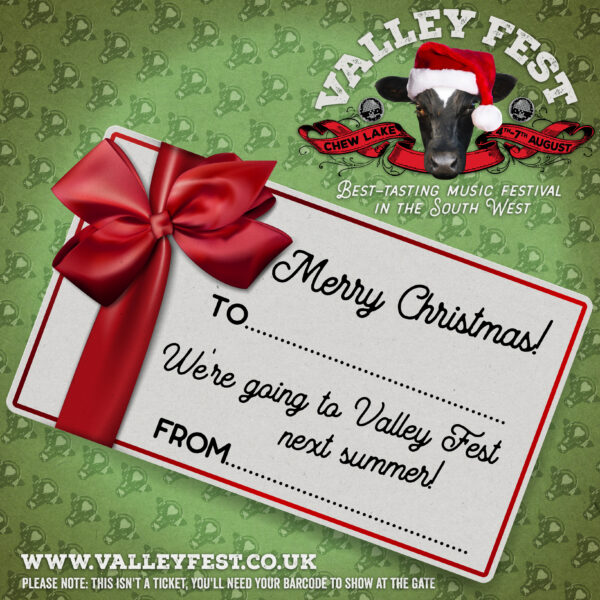 The gift that keeps on giving?
You may intuitively know that a well-chosen experience tends to make a better present. But do you know why?
Thomas Gilovich at Cornell University has spent more than a decade trying to understand why experiences have the ability to contribute to happiness more than material purchases. Along with Matthew Killingsworth, he published his research in the Journal of Psychological Science. They reckon that this is because we adapt to physical things, so even the newest phone becomes commonplace after enough time, while memories tend to get fonder over time.
Gilovich explains:
"Our experiences are a bigger part of ourselves than our material goods….You can really like your material stuff. You can even think that part of your identity is connected to those things, but nonetheless they remain separate from you. In contrast, your experiences really are part of you. We are the sum total of our experiences".
And, of course, the good times start way before Valley Fest begins. The anticipation leading up to it: what to wear, what to pack, who to see. Then you have your time at the event – hedge-to-hedge fun, frollicks and food. And then you have all the memories you've made.
All of this means it is the gift that truly keeps on giving!
GET ON MY LAND! x